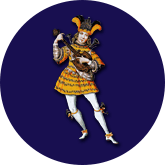 V International Early Music Course
Ensemble music for voices and historical instruments
Magliano in Toscana, July 7th – 13th, 2019
Our musical course is focused on ensemble music and is addressed to singers and musicians particularly interested in 17th and 18th century repertoire. Instruments at 415hz are required.
All teachers will take care of ensembles playing chamber music. We will work on chamber music literature, forming groups of a homogeneous level. Individual lectures are available for those who request it.
Classes will start on July the 7th with following schedule:
10.00 – 13.00     morning classes
16.00 – 19.00     afternoon classes
TEACHERS
During the week, different activities will be proposed, musical and not only…
On Saturday, July the 13th, students' concert will occur.  
During 2019 course three new classes proposals are offered:
Baroque orchestra workshop for string instrumentists (A = 415)
Rossella Croce, one of the most appreciated baroque violinists on the international scene, will guide you through the secrets of ancient music: phrasing, arches, embellishments, intonation, vibrato.
Only in the morning, from Sunday the 7th to Friday the 12th. The students considered suitable will participate in the final concert on July the 13th. 
Italian Cantata: workshop for singers
Guido Morini will lead singers to deepen Italian style at the turn of the seventeenth and eighteenth centuries. A repertoire in balance between expressiveness and virtuosity in a period dominated by the phenomenon of castrati. The style of mentioned era will be explored by working on the original sources.
From Sunday the 7th to Friday the 12th. On Saturday the 13th, at 21.30, students workshop concert will be held.
Discovering harpsichord: workshop for piano players
The instrument of Bach and Scarlatti… Guido Morini will introduce students to touch, phrasing and ornamentation on harpsichord. Dedicated to pianists who wish to deepen their awareness and enrich their interpretations with new ideas.
Sunday July the 14th (from 11 to 13 and from 15 to 17).
Applications
All the details are available on the APPLICATION page. Application is considered effective only upon payment of the fee.
LODGING
Lodging agreements available with agriturismo "I Puntoni".
Details available on LODGING page.
Agreements available with local facilities (restaurants and pizzerie) to offer students a wide range of possibilities for their meals in Magliano town.
FURTHER INFORMATION
Our course manager will be glad to help you answering your questions.

info@musicanticamagliano.it

+39 349 524 13 24
V INTERNATIONAL EARLY MUSIC COURSE
Magliano in Toscana (GR), July 7th – 13th, 2019