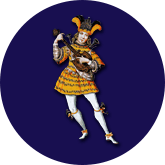 Luigi Lupo, baroque flute and recorder
After his degree of traverse flute, in 1991, by Conservatorio "G.B. Martini" in Bologna, he has spent its time mainly in studying and researching of historical flutes.
In 1995 he has a degree in Discipline delle Arti, della Musica e dello Spettacolo, at Department of Literature and Philosophy at University of Bologna, with a research thesys on "Renaissance traverse flute".
In 1996 he has gained a diploma in Flauto Dolce and Traversiere Barocco at Conservatory "F. E. Dall'Abaco" in Verona with M° M. Castellani, and in the meanwhile he has followed the Corso di Musica da Camera with M.° J. B. Christensen at Schola Cantorum in Basilea.
He has gained a Diploma Accademico di II livello in Musical disciplines for Flauto Dolce and Traversiere at Conservatory "F. E. Dall'Abaco" in Verona with M° M. Castellani.
He collaborates with different ancient music ensambles, moving from medieval music to romantic music. He has done many recordings made for various labels including: CSR, RAI Trade, Stradivarius, Tactus, Emi Classic, Naxos, Third Millennium, Brilliant Classics, etc.. 
At the moment he teaches at the Musical Institute "A. Vivaldi" in Bolzano and at Scuola di Musica Antica "Girolamo Dalla Casa" at ILMA – Palazzo Gerometta – Clauzetto (PN).
MUSICANTICAMAGLIANO
WINTER EDITION
Magliano in Toscana (GR), January 2nd- 5th, 2019