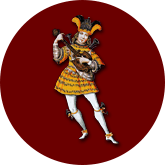 Guido Morini, harpsichord and continuo
After studying organ, harpsichord and composition, he devoted himself to the art of basso continuo and of improvisation.
He has collaborated with many ensembles, recording nearly 80 discs, many of which have received awards and the highest acclaim from the international press and critics (Diapason d'Or,  10Repertoire, 5Goldberg, Choc de la Musique) with important labels: ECM, Opus 111, Arcana, Glossa, Astrèe, Alia Vox, Cypres, Naïve, Alpha.
In 1984 he founded, together with the tenor Marco Beasley, his ensemble ACCORDONE to porsue a new way to interpret the baroque repertoir and especially the 17th century italian music.
Guido Morini regularly plays for the most important festivals and concert halls and makes all the musical revisions and elaborations for Accordone. Eclectic musician, he also creates new music for his own ensemble thinking up concerts, performances, oratorios and liturgical music:
"Una Odissea" (2002) is an opera in one act for soloists, choir and orchestra on a libretto by Marco Beasley; "Vivifice Spiritus Vitae Vis" (2005), is a sacred oratorio for soloist, choir and organ on a latin text. In January 2009 his opera "Una Iliade"- that involves Accordone, the Netherland Blazers Ensemble and the Hilliard Ensemble – was performed as worldpremiere at Muziekgebouw 'Aant of Amsterdam . In May 2009 another worldpremiere at Salzburg Festival: "Solve et Coagula" an opera devoted to Raimondo di Sangro Principe di San Severo, a philosoph, scientist, inventor and alchemist who lived in Napoli during 18th century.
In 2012 the new sacred creation "Passio" for tenor, choir and organ, was performed in Austria. Between 2012 and 2014 the french label Alpha presents Storie di Napoli, recording devoted to the neapolitan music from XVI century to nowadays; Cantate Deo, a cd devoted to italian sacred music for two voices in the early XVII century and the creation Solve et Coagula. In 2014 the label Brilliant published with him the integral of the last quartets by C.P.E Bach.
Guido Morini is a professor at the "Alessandro Scarlatti" Conservatory of Palermo.