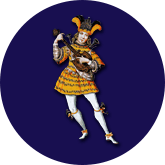 Alessio Tosi, singing
He brilliantly graduated in singing and vocal chamber music at the Conservatory of Music "L.Campiani" of Mantua. Particularly prone to chamber music and oratorio, he studied in Italy and abroad with renowned masters such as Ulf Baestlein, Ulrich Eisenlhor, Erik Battaglia, Stacey Bartsch, Dalton Baldwin, Irwin Gage, Walter Moore, Helge Dorsch, Charles Spencer and Sara Mingardo. He collaborates with "La Venexiana" of Claudio Cavina, Capella Reyal de Catalunya of Jordi Savall and the Centre of Ancient Music "Pietà de' Turchini" of Naples, Collegium 1704 directed by V. Luks.
He asserted himself in major international competitions: Internationaler Lieder Wettbewerb Husum (Germany) (2009 and 2010 finalist and scholarship), V International Singing Competition "G.Neri" Torrita di Siena (finalist and certificate of merit); VI International Baroque Singing Competition "F.Provenzale" of Naples (third prize); XXIV International Competition of vocal chamber music Città di Conegliano (second prize), International Singing Competition "F.Viñas" Barcelona 2011 (finalist ), scholarship from the Conservatory of Mantua for the chamber music 2010 (first prize). He regularly performs at important international baroque festivals MITO (Milan and Tourin), Regensburg Alte Musik and Dortmund Vokal Festival (Germany), Bruxelles, Mechelen and Antwerpen (Belgium), Santander (Spain), Dias Do Musica Lisboa (Portugal), Stresa (Italy), Utrecht (Holland), Kracow Misteria Paschalia (Poland), Graz Styriarte and Salzburg (Austria), Stuttgart Festival (Germany), Bucarest Enescu Festival (Romania),  … and in prestigious concert halls (Paris, Cité de la Musique; Amsterdam, Concertgebouw; S. Petersburg, Pushkin Palace; Mozarteum in Salzburg; Wiener Konzerthaus; Berliner Philarmonie, Tokyo Opera House…) He has recorded for Sony, Dynamic, Classic Voice, Velut Luna, Philips, Tactus and Brilliant  labels and for several broadcastings such as RAI Radio 3, BBC, NDR, ORF 1, Radio France.
Warm appreciation of audiences and critics  participating in  Monteverdi's repertoire (Pisandro and Iro in Il ritorno di Ulisse in patria; Nutrice in L'incoronazione di Poppea and The Shepherd and Apollo in Orfeo). The debut as the protagonist took place in Wien with the role of Thyrsis in the homonymous Oratory of Costanzi,  followed by Polidoro in Erminia of A.Scarlatti (Napoli, under Marcello Di Lisa's baton) and Creonte  in the homonymous opera of D.Bortnianskij (St. Petersburg, under the direction of C.Siskovic ). Very appreciated as Lieder performer, his repertoire includes the masterpieces of German, French, Spanish, Italian and Russian song repertoire. He has just completed the recording of the whole vocal chamber opera of G.Spontini for Tactus label ( 5CDs),  A.Stradella's duets with dame E.Kirkby, B.Marcello's duets (ORF edition) and A.Steffani's Vocal chamber duets for Brillant Classics. Among the next projects: Monteverdi's operas tour around Europe with La Venexiana, Haendel's Messiah in Milan, Schumann's Der Rose Pilgerfahrt in Tourin, Stradella's San Giovanni Crisostomo in Rome and a recital with French songs in Florence.
IV INTERNATIONAL EARLY MUSIC COURSE
Magliano in Toscana (GR), July 15th – 21st, 2018